Youth 'concerned' over leaders' performance, unemployment
07 Aug 2019
Youth participants at an interaction program raised concern over the way Nepal's politicians have been engaged in what they said 'disillusionment' theory.
Expressing their views at an interaction on 'Youth, Democracy, and Development' jointly organized by Institute for Strategic and Socio-Economic Research (ISSR) and Khabarhub, and Pavilion Group at the Pavilion Hall in Kathmandu today, participants said the conduct of the politicians have given them disillusions about politics.
Participants at an interaction on ''Youth, Democracy, and Development'' organized at the Pavilion Hall, Kathmandu.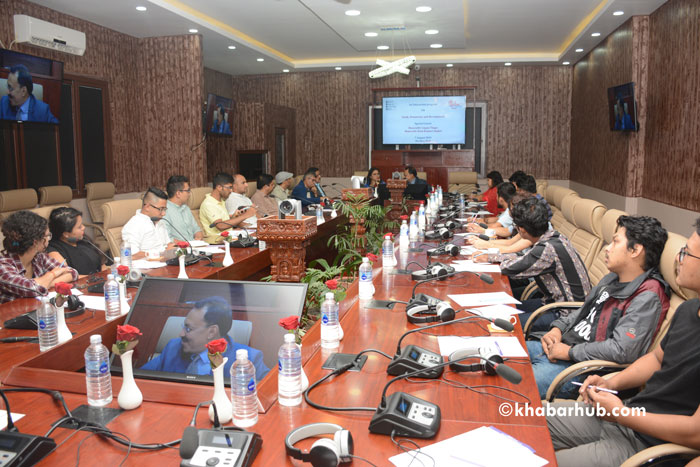 Ashish Lamichhane said youth have grown up through an era of what he described 'broken promises' rhetoric.
This, he said, has been one of the reasons why the younger generation does not actually understand the dissimilarity between voting above and versus below the exact line.
Pratibha Panta suggested a provision of internship and fellowship for youths pursuing their higher education.
Earlier, speaking on the occasion, ruling Nepali Communist Party (NCP) lawmaker Ram Kumari Jhakri raised concern over the 'ideological crisis' that has gripped the Nepali political arena.
NCP lawmaker Ram Kumari Jhakri expressing her views at the interaction.
If you would like to read the full article published in Khabarhub, please click on the link above.